Save $5 on your first order with coupon code:  SAVE5NOW
Monkeys Are Made of Chocolate
MON1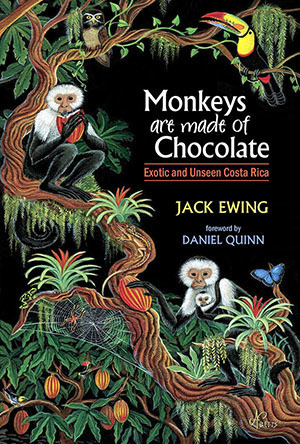 Monkeys Are Made of Chocolate: Exotic and Unseen Costa Rica
by Jack Ewing
foreword by Daniel Quinn
Discover the mysterious and fascinating ways in which animals and plants-and people-interact with one another in the rainforests of Costa Rica. Author and naturalist Jack Ewing shares a wealth of observations and experiences, gathered from more than three decades of living in southwestern Costa Rica, home to some of the most prolific and diverse ecosystems on Earth. More than just a simple collection of essays, Monkeys are Made of Chocolate is a testament to the wonder of life in all its countless guises, as seen through the eyes of a man with a gift for subtle discernment and a natural flair for storytelling.
---
REVIEWS

"Jack Ewing's thirty-year adventure in a Costa Rican jungle has produced a book full of infectious love and amazing lore."
— Daniel Quinn, award winning author of Ishmael

"I taught about leaf cutter ants to my sixth grade class and the children were thrilled and amazed. Your pieces on Baird's tapir were so good I simply read them to the class, out of which they decided to raise money to adopt a tapir. Thank you!"
— Stu Summer, middle school teacher - Hillsdale, New York

"Written in language accessible to everyone, the 32 stories in this book delve deep into the fascinating world of Costa Rica's tropical wildlife, skillfully intertwining ecological facts with current environmental and social issues which affect all of us. Even trained scientists will find something new in the personal, and often humorous, observations in these pages. This book is perfect reading for every inquisitive traveler to Costa Rica."
— Rob Rachowiecki, author of Lonely Planet Costa Rica guidebook (the first five editions)
---
AT-A-GLANCE
A Collection of Essays
Monkeys Are Made of Chocolate
A Tale of Tzimin and Bolom
Raven Meets Toboba Tiznada
Eating the Seed Corn
Who Says You Can't Teach An Old Sloth New Tricks
There's a Fungus Among Us
Everybody Loves Toucan Sam ... or Do They?
Buffalo Herds, Beer and a Disease-Free World
The Good Guys and the Bad Guys
Not a Tree to Hug
Viagra Brings New Hope for Vanishing Marine Turtles
Addictive Brown Powder and Biodiversity
Blood Eaters Gone Amok
A Musty What?
Bats in the Attic, Pigs on the Plane, Hey Ma, the Well's Gone Dry
Deforestation, Reforestation and Regeneration
How Much Is a Tree Worth?
Please Don't Feed the Crocodiles
---
MEET THE AUTHOR

Jack Ewing's love affair with the rainforest began in 1970 when, in search of new opportunities for plying his Bachelor of Science degree and his skills as a cattle rancher, he left his native Colorado and moved his wife, Diane, and their young family to the jungles of Costa Rica. His ever-growing fascination with the rainforest, however, soon prompted his transformation into environmentalist and naturalist.
A natural-born storyteller, Jack's articles about life in the rainforest appear regularly in Costa Rican publications, and he often speaks to environmental, student and ecological traveler groups. He is currently president of two environmental organizations, ASANA and FUNDANTA. His expertise on biological corridor projects is much sought after. "What we must do to save the rainforest," says Jack, "is connect the parks, refuges and reserves with biological corridors and then teach the people how to make a living from these natural areas without damaging or destroying them. If we want conservation to work, we have to make it profitable."
Jack and Diane live on internationally acclaimed Hacienda Baru National Wildlife Refuge where he currently serves as the director.
---
BOOK SPECS
ISBN 978-0-9658098-1-8
240 pages • 6 x 9 paperback
color photo album insert • 2005