Save $5 on your first order with coupon code:  SAVE5NOW
Surviving Wildfire (book)
SW1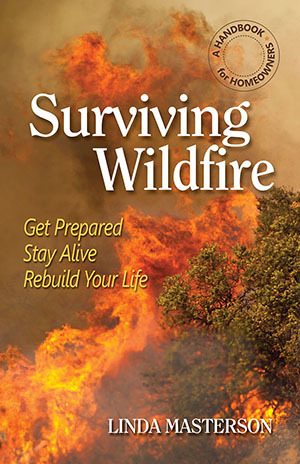 Surviving Wildfire: Get Prepared, Stay Alive, Rebuild Your Life
(A Handbook for Homeowners)
by Linda Masterson
Author and researcher Linda Masterson knows what it's like to flee a wall of flames in the middle of night, with just minutes to escape with her life and very little else. Her home in northern Colorado burned to the ground in the Crystal Fire in 2011. Now she's sifted through information, resources and expert advice from across the country to put together a practical handbook and personal pocket guide for homeowners who want to be better prepared if disaster strikes. For a wealth of information, please visit: SurvivingWildfire.com

---
REVIEWS
"A wake-up call for anyone who lives with wildfire risk. Solidly researched, easy to read and reference, and full of information that could save homes...and lives."
Dave Zader, Fire Manager
Boulder, Colorado
"...Surviving Wildfire is worthy of the highest recommendation, especially for anyone who lives in or near fire-prone lands; reading it could literally save lives."
Small Press Bookwatch
"A very compelling read and extremely informative. The combination of the author's real-life experience and her diligent research makes this a very helpful handbook for people living with the risk of wildfire."
Michele Steinberg, Manager – Firewise Communities Program, National Fire Protection Association
---
AT-A-GLANCE
Handbook for Homeowners

Assessing Your Risk
Firewise Building and Remodeling
Defensible Space You Can Live With
Advance Planning: A Pound of Prevention Can Save a Ton of Trouble
Evacuation Essentials: What to Take, When to Leave, How to Escape
Insurance: How Much You Need, What It Covers, How It Works
Filing a Claim: Insider Tips and Tactics
Recovery: Picking Up Your Pieces and Starting Over
Our Story
---
MEET THE AUTHOR
Award-winning author and researcher Linda Masterson tackles a subject she knows all too well in Surviving Wildfire: Get Prepared, Stay Alive, Rebuild Your Life (A Handbook for Homeowners) SurvivingWildfire.com. Masterson's home and 72-acre tree farm burned to the ground in a Colorado wildfire in 2011, leaving her with little but her laptop and a fierce determination to get back on her feet and get on with her life.
Masterson has always specialized in turning the complex into the comprehensible. In her job as director of Strategic Planning for Ketchum Communications she provided insight and direction to clients ranging from Procter & Gamble to Campbell Soup.
Her book, Living with Bears Handbook, (LivingWithBears.com) is filled with information, inspiration and motivation for people who live and play in bear country. Its combination of solid research, sound advice from bear experts all over the continent and motivating true stories of people and communities who have learned to coexist with bears has made it the book of choice for bear professionals and homeowners alike.
---
BOOK SPECS
ISBN 978-1-936555-15-4
144 pages • 6 x 9 pb
illustrated • 2013
---