Save $5 on your first order with coupon code:  SAVE5NOW
Ancient Fire, Modern Fire: book & educator's guide
AMF-edset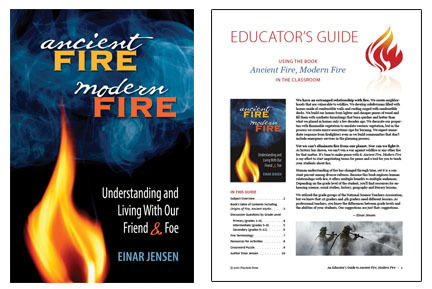 SET FOR EDUCATORS: Book & Guide

BOOK: Ancient Fire, Modern Fire: Understanding and Living With Our Friend & Foe
by Einar Jensen
Creating fire is easy, yet understanding and learning to live with this friend and foe has never been easy; stopping fire is a dangerous—often deadly—pursuit. Drawing on his experiences as an environmental historian, firefighter and life safety educator, author Einar Jensen presents an eye-opening look at fire and our history of dealing with it, then gives us the tools for being responsible and prepared—as parents, as communities, and as homeowners in the wildland urban interface.

ISBN 978-1-936555-64-2
224 pages • 6 x 9 softcover • 2016
Educator's Guide

This 10-page PDF guide for teachers is filled with helpful information: overview of subjects (science, social studies, history, geography, economics, comprehensive health), discussion questions by grade level, fire terminology, resources for activities, crossword puzzle, and an easy page reference to the 29 Ancient Myths in the book. Suitable for all ages: primary / intermediate / secondary.