Save $5 on your first order with coupon code:  SAVE5NOW
Wildfire Ready Combo Set (book and pocket guide)
SW-set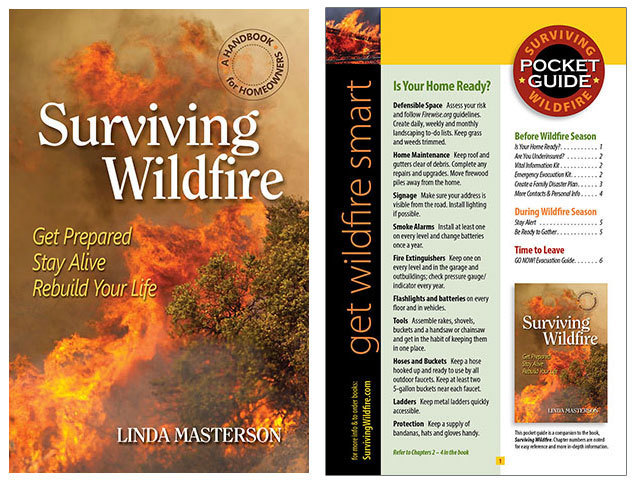 Wildfire Ready Combo Set includes the Surviving Wildfire book and companion Pocket Guide.
Author and researcher Linda Masterson knows what it's like to flee a wall of flames in the middle of night, with just minutes to escape with her life and very little else. Her home in northern Colorado burned to the ground in the Crystal Fire in 2011. Now she's sifted through information, resources and expert advice from across the country to put together a practical handbook and personal pocket guide for homeowners who want to be better prepared if disaster strikes.

Handbook for Homeowners

Assessing Your Risk
Firewise Building and Remodeling
Defensible Space You Can Live With
Advance Planning: A Pound of Prevention Can Save a Ton of Trouble
Evacuation Essentials: What to Take, When to Leave, How to Escape
Insurance: How Much You Need, What It Covers, How It Works
Filing a Claim: Insider Tips and Tactics
Recovery: Picking Up Your Pieces and Starting Over
Our Story
The 6-panel companion pocket guide is jam packed with handy checklists and places for you to record your personal information and contacts. Speaking from firsthand experience...you'll find this invaluable when the pressure is on to evacuate and every minute counts. Checklists include an insurance checkup, putting together your Vital Information and Emergency Evacuation kits, creating a family disaster plan, important stuff to gather, how to stay alert during wildfire season, and the GO NOW! Evacuation Guide.