Save $5 on your first order with coupon code:  SAVE5NOW
Ancient Fire, Modern Fire
AMF1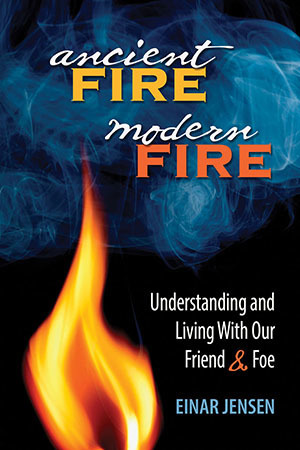 Ancient Fire, Modern Fire: Understanding and Living With Our Friend & Foe
by Einar Jensen

Creating fire is easy, yet understanding and learning to live with this friend and foe has never been easy; stopping fire is a dangerous—often deadly—pursuit. Drawing on his experiences as an environmental historian, firefighter and life safety educator, author Einar Jensen presents an eye-opening look at fire and our history of dealing with it, then gives us the tools for being responsible and prepared—as parents, as communities, and as homeowners in the wildland urban interface.
---
AT-A-GLANCE
Fire, Our Friend and Foe
Fundamentals of Fire Science
Youth & Firesetting: Playing with Fire Can Burn Us
Fire's Dark Side: A Tool of Pain & Destruction
Fire's Positive Side: A Tool of Creation
Rules of Fire, Rites of Fire
Sacred Fire
Risk Perception and Fire
Harmony with Fire
Will We Keep Burning?
Plus 29 Ancient Myths about the Origins of Fire, and a detailed appendix with Resources for Dealing with Youth Fire Misuse, Suggested Reading, Online Resources, Glossary, and more.
---
REVIEWS
"Ancient Fire, Modern Fire is a really good reference book for educators – including safety specialists, classroom teachers, and fire prevention specialists. The book provides historical and mythical information that is very hard to find in any organized fashion elsewhere, and it offers a good summary of information on youth and firesetting. I agree fully with the author's assertion that knowledge about fire must be accompanied by 'cultural instructions' that help us protect ourselves, use fire wisely, and safely manage the fires that occur – whether we want them or not – in our wildlands."
- Jane Kapler Smith, Fire Ecologist (retired), USDA Forest Service, Missoula Fire Sciences Laboratory
"Great book about the complex relationship humans have with fire! Einar does a wonderful job of bringing together the old legends and myths from many different cultures with America's current use and flawed perspective of this great force we use every day. This book should be required reading for every new recruit in the fire service and placed in every fire station as a resource. As important as this book is for those of us in the fire service it is also a phenomenal teaching tool for the general public. Until everyone completely understands and respects fire, this country will continue to see preventable and needless death and damage related to human's carelessness with fire."
- Captain Dave Meadows, Fort Wayne Fire Dept., Indiana
"Jensen is able to capture both the mystical and adversarial relationship humans have with fire. By delving into the history, chemistry and possibilities of fire, readers will gain new levels of respect, awareness and safety. As a parent and an educator, I find this book very accessible for readers of all ages. I already have lesson plans swirling in my imagination. Well done!"
- Hilary Bilbrey, CEO, Trademark U; Co-Owner, Inspired By Family
"Einar Jensen reminds us that fire hasn't changed, human beings have: we are too comfortable and too careless around fire and its destructive power. We will never own it or control it, but we must respect it…when it destroys and when it creates. Ancient Fire, Modern Fire is an excellent resource on fire and fire safety, and should be on the shelves of educators and families, all fire service professionals, injury prevention specialists, juvenile firesetter intervention specialists, and mental health professionals."
- Maria Bostian, Fire & Life Safety Educator, Kannapolis Fire Department; author of two books
"The statement 'knowledge is power' couldn't be more fitting for dealing with the inevitability of fire. But destruction and death do not have to be the inevitable outcome. The knowledge that Jensen provides is what makes Ancient Fire, Modern Fire such an important and powerful tool for parents, teachers, and those serving our communities."
- Susie Keppers, 4th-grade teacher, Douglas County School District, Colorado
---
MEET THE AUTHOR

Einar Jensen, a veteran community risk reduction specialist, works for Colorado's South Metro Fire Rescue Authority's Preparedness Division directing their wildfire mitigation program and educating students and the public on fire and injury prevention. Prior to leaving the mountains, he was a volunteer firefighter for Clear Creek Fire Authority for twelve years and, concurrently, volunteered for eight years for Clear Creek Sheriff's Office Marmot Wildfire Crew. He studied environmental history at the University of Montana and University of Puget Sound and considers himself a recovering print journalist. He is an active member of the Fire & Life Safety Educators of Colorado.
---
BOOK SPECS

ISBN 978-1-936555-64-2
224 pages • 6 x 9 paperback • 2016