Save $5 on your first order with coupon code:  SAVE5NOW
Where Tapirs & Jaguars Once Roamed
TAP1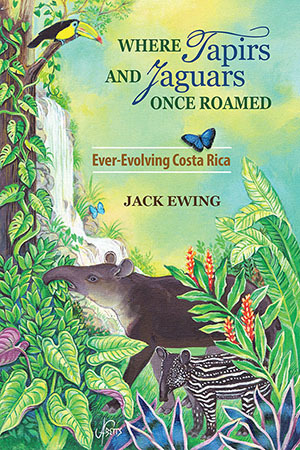 Where Tapirs and Jaguars Once Roamed: Ever-Evolving Costa Rica
by Jack Ewing
Look beyond Costa Rica's natural beauty and you'll discover a tumultuous yet fascinating history. Join author Jack Ewing as he explores the origins and development of the south-central Pacific coast and recounts his 45-year journey from cattle rancher to conservationist. Now, thanks in large part to his efforts at Hacienda Barú National Wildlife Refuge and with the Path of the Tapir Biological Corridor, jaguars and tapirs may one day return to the area.
---
REVIEWS
"Already an accomplished writer of wildlife stories and riveting tales of pioneer survival in this remote part of Costa Rica, Jack Ewing extends his range in this new collection. With his talent for storytelling, combined with careful research, Jack brings human prehistory to life in tales of an imagined, but believable, tribe of tapir hunters. Not satisfied with the distant human past, he reaches even further back, to breathe life into the very stones that formed Costa Rica, serving up geological history in meaty but easy-to-swallow bites.
For Jack's many fans, the stories recalling episodes of his 45-year, personal evolution from cattle rancher, to emerging naturalist and conservationist, to renowned environmentalist will be equally enlightening and entertaining.
This book will appeal to all ages and a wide range of readers -- tourists, naturalists, environmentalists, natural history students, local history buffs and anyone who has had the pleasure of experiencing the natural Costa Rica that Jack has worked so hard to foster and protect."
— Dorothy MacKinnon, travel writer, Fodor's Guide to Costa Rica, Insight Guide to Costa Rica, Tico Times
---
AT-A-GLANCE
Foreword by Pamela Herring
Preface
Introduction: "You Make Mistake, Maybe We Die"
Part One
1 - The Formation of Central America
2 - Hunter Gatherers and Early Agriculturalists
3 - Kobuka
4 - Petroglyphs, Headhunters, Grave Robbers
5 - A Place Where Nobody Wanted to Live
Part Two
6 - Carmelita and El Tigre
7 - The Coming of the Bongos
8 - A Bad Day Fishing
9 - Stub-Tail
10 - Markets and Wars
11 - Getting to the Other Side of the Road
12 - Law and Lawlessness in Rural Costa Rica
13 - Lencho's War
14 - Seafood and Sailors
15 - When There Is No Doctor
16 - A Small Golden Eagle for Juanito
17 - There's More To It Than Just a Name
18 - The Last Tapir
19 - Real-Life Superwoman
20 - From Destroyer to Protector
21 - The Black-Hat Guy on the Bicycle
Part Three
22 - Clickity Clack Down the Track
23 - La Casona de Hacienda Barú
24 - The Power of a Thought
25 - Fat-Handed Cats
26 - The New Mafia
27 - The Scream Maker
28 - Bird Watching in the Killing Field
29 - Troubled Times in Costa Rica
30 - The Luxury of Living in the Third World
31 - Top Predators
32 - Surviving Joan and Caesar
33 - A Great Name for an Elephant
34 - Costa Rica Moonshine
35 - The Land of Small Hotels and Big Parks
36 - A Place Where Biodiversity Is Increasing
37 - Hacienda Barú
---
MEET THE AUTHOR

Jack Ewing's love affair with the rainforest began in 1970 when, in search of new opportunities for plying his Bachelor of Science degree and his skills as a cattle rancher, he left his native Colorado and moved his wife, Diane, and their young family to the jungles of Costa Rica. His ever-growing fascination with the rainforest, however, soon prompted his transformation into environmentalist and naturalist.
A natural-born storyteller, Jack's articles about life in the rainforest appear regularly in Costa Rican publications, and he often speaks to environmental, student and ecological traveler groups. He is currently president of two environmental organizations, ASANA and FUNDANTA. His expertise on biological corridor projects is much sought after. "What we must do to save the rainforest," says Jack, "is connect the parks, refuges and reserves with biological corridors and then teach the people how to make a living from these natural areas without damaging or destroying them. If we want conservation to work, we have to make it profitable."
Jack and Diane live on internationally acclaimed Hacienda Baru National Wildlife Refuge where he currently serves as the director.
---
BOOK SPECS
ISBN 978-1-936555-55-0
288 pages • 6 x 9 pb
illustrated • 2015