Save $5 on your first order with coupon code:  SAVE5NOW
The Smart Guide to Geothermal
GEO1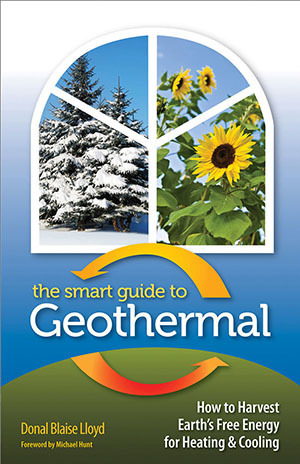 The Smart Guide to Geothermal: How to Harvest Earth's Free Energy for Heating & Cooling
by Donal B. Lloyd
Discover why geothermal heat pumps are the most energy-efficient technology for heating and cooling, and how all homes—new or retrofit, in hot or cold climates—can use this reliable, silent, non-polluting way of extracting free energy from the earth.
---
REVIEWS
"After 20 years as consultant, CGD and IGSHPA instructor, and a vetted Geo Junkie, this is a very rare, not to mention 'the best', holistic and non-technical presentation of technical information I've seen. Within the past hour, I have decided to order another 20 for routine use in my 'ramp up' of new clients. A few bucks as a gift will save me weeks of education."
— John Geyer, John Geyer & Associates - Vancouver, WA
"This book has helped give me the knowledge and confidence to move forward. It took geothermal from something too good to be true to something too good to ignore."
— Louis S., New York homeowner
"Thank you, Don Lloyd, for writing a geothermal book that is accessible for homeowners. Educating consumers about geothermal heat pumps is the responsibility of everyone in the geothermal industry; Don's book gives us another tool to use as we try to improve the way we heat and cool our buildings."
— Brian Hayden, HeatSpring Institute
---
AT-A-GLANCE
Geothermal system options, including open-loop, closed-loop and DX configurations, using horizontal and vertical earth loops;
The importance of finding a qualified contractor;
Costs, tax credits and payback issues, plus calculating increased home values;
Who is using geothermal energy, including the author's firsthand experiences, home profiles in the US and Canada, as well as an overview of commercial/institutional projects;
How solar electricity can be used to power the system, plus other future trends;
Unraveling the science and technology of geothermal heat pumps (GHPs);
Understanding GHP performance standards, ratings and warranties in the US and Canada;
Comprehensive appendix with helpful resources; (manufacturers, associations, etc.) and a career section for those interested in entering the field.
---
BOOK SPECS
ISBN 978-0-9773724-8-5
192 pages • 5½ x 8½ paperback
illustrated • 2011