Save $5 on your first order with coupon code:  SAVE5NOW
Power With Nature
PWN3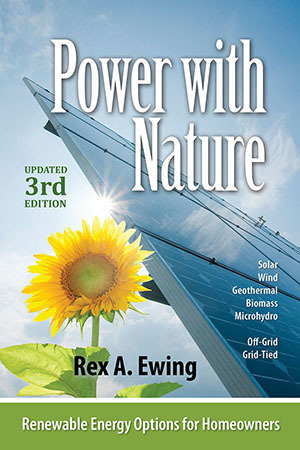 Power with Nature: Renewable Energy Options for Homeowners
Updated 3rd Edition
by Rex A. Ewing
Take a big step toward self-reliance by harnessing free energy from the sun, wind, water, and earth to power and heat your home. Power with Nature will get you started on the right path, whether you are connected to the grid or far from the nearest power pole.
---
REVIEWS

"Should be mandatory reading for all environmentally conscious folk. This book is immensely useful and readable, and enjoyable. Whoever says conservation and science are stuffy subjects needs to have this book to reverse their view."

— amazon.com reviewer
"Plenty of energy guides for homeowners advocate getting off the grid; but few do such a good job of explaining just how to go about it. Power With Nature is essential for rural homeowners. An outstanding, highly recommended guide."
— California Bookwatch

---
AT-A-GLANCE

For Off-Grid & Grid-Tied Homes:
Smart Ways to Conserve Energy
Solar Systems: Passive & Active (Photovoltaics)
Wind Turbines
Microhydro Systems
System Sizing, Pricing & Tax Credits
Backup Generators
Geothermal Heat Pumps
Solar Thermal Collectors
Biomass (Wood) Heating
Finding & Storing Water
Going on Vacation
Extensive Appendix (worksheets, maps, resources & more)
---
MEET THE AUTHOR

Rex Ewing's diverse interests have led him from Colorado to Costa Rica to Alaska, working cattle and horses, mining gold, and formulating equine supplements. He now lives at the end of a bad dirt road in the Colorado Rockies with his wife LaVonne and two dogs. There he writes novels and non-fiction books from his hand-hewn log cabin powered by the sun and wind.
---
BOOK SPECS
ISBN 978-0-9773724-9-2
240 pages • 6 x 9 paperback
illustrated • 2013