Save $5 on your first order with coupon code:  SAVE5NOW
Living With Bears Handbook
LWB2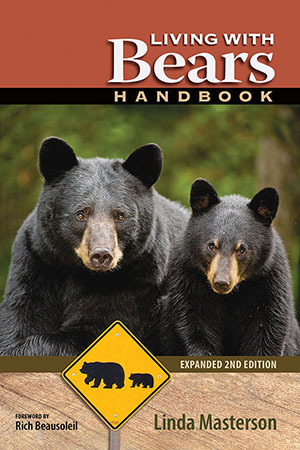 Living With Bears Handbook
Updated 2nd Edition
by Linda Masterson
Today bears have a growing people-problem: their "backyards" are full of humans and people-provided food is everywhere. Discover practical solutions and real-world examples of how to prevent conflicts at home and at play so we can do a better job of sharing space with these intelligent, adaptable animals.
---
REVIEWS
"You have done a unique and powerful thing, bridging passion, science and practical management. Your insightful, well researched and witty book will guide and inspire humans to live in greater harmony with bears."
— Steve Herrero, author of Bear Attacks: Their Causes and Avoidance, and Past President of the International Association for Bear Research and Management (IBA)
"If you live in bear country (and, unless you're an inner-city resident, you probably do), you owe it to bears to read this smart, useful and long-overdue book. Don't let them die because of your or your neighbors' mistakes."
— Ted Williams, Editor-at-Large, Audubon, and Conservation Editor, Fly Rod & Reel
"I have over 350 bear publications in my personal library and I must say that this is one of my favorites. A wonderful, well written book, full of useful information on how to live with bears. I especially liked the tips spread throughout the book by noted bear biologist Tom Beck."
— William R. Cramer, Durango, Colorado

Read all reviews at LivingWithBears.com
---
AT-A-GLANCE
Understanding Black Bears and Their Behavior
Bear-Proofing Your Home
Being Bear-Smart in the Outdoors
Attractant Management: Garbage, Bird Feeders, Fruit Trees, Beehives, Chicken Coops, Gardens, and more
Creating Bear-Smart Communities
Preventing Conflicts
Responding to Encounters and Attacks
A Bear Manager's World
Case Studies from the U.S. & Canada
North American Bear Populations, Extensive Resources
---
MEET THE AUTHOR
Author and researcher Linda Masterson was a member of Colorado Parks and Wildlife's Bear Aware team for more than a decade. Her latest book, Living with Bears Handbook, is an expanded and completely updated second edition of the guidebook that's been the bible of coexisting with bears for more than a decade, Living with Bears.
Linda has been a featured presenter at several International Bear Management Association and Human-Bear Conflicts conferences and workshops. She's a partner in marketing and communications firm Masterson & Phillips.
---
BOOK SPECS
ISBN 978-1-936555-61-1
288 pages • 6 x 9 softcover • 2016
over 160 photos / illustrations