Save $5 on your first order with coupon code:  SAVE5NOW
Hydrogen - Hot Stuff, Cool Science
HYD2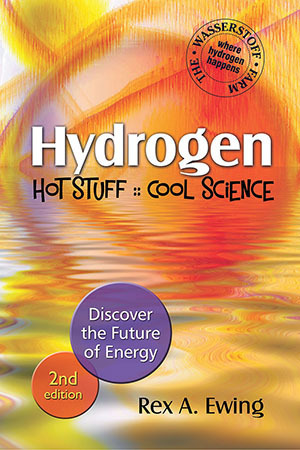 HYDROGEN — Hot Stuff, Cool Science: Discover the Future of Energy
2nd Edition
by Rex A. Ewing
Discover the exciting new energy technologies that can release hydrogen from fossil fuels, biomass and even water, and how this could lead to hydrogen-powered cars, homes and cities.
---
REVIEWS

"This book is amazing. It has helped me explain the complex science of hydrogen to Wall Street investors."
— Brion Tanous, Next Generation Energy, Merriman Curhan Ford & Co.
"The world needs more writing like this, a merging of art and science that puts the concepts within reach of everyone. Phenomenal!"
— Dr. Cortney Martin, Virginia Tech
"Whether it's read for content, for pleasure, or as a source of great read-aloud anecdotes, this book provides the most current information on hydrogen and other energy technologies in an enjoyable way."
— Richard Smith for National Science Teachers Association
"The International Youth Fuel Cell Competition will continue to recommend this excellent resource for the academic segment of our competition. The students thoroughly enjoy the entertaining format while studying the comprehensive information about hydrogen energy."
— Kay Larson, IYFCC Director; owner - FuelCellStore.com
---
AT-A-GLANCE
PART ONE: Laying the Foundation
Creation of Atomic Elements
Fission & Fusion Reactions
Nature of Molecular Bonds
How the Greenhouse Effect Works
Overview of U.S. Energy Consumption
PART TWO: Where In The World Is The Hydrogen?
Fundamentals of Electrolysis
Alternate Ways to Cleave Hydrogen from Water
Extracting Hydrogen from Coal, Natural Gas & Biomass
Ethanol & Methanol Production
Nuclear Energy & Hydrogen Production
Wind Energy & Hydrogen Production
Solar Energy & Hydrogen Production
PART THREE: Putting Hydrogen To Work
Hydrogen Storage
Hydrogen-Fueled Internal Combustion Engines
Fuel Cells
A Peak Into Tomorrow
Appendix (Metric/English Conversion Factors, Resource Websites, General Bibliography & Suggested Reading)
---
FOR TEACHERS
This book has been used as a teacher/student resource by the National Science Bowl in preparing middle school students for the competition. Other high school science teachers have found it to be an excellent tool in the classroom, and so we put together a Study Guide supplement.

Hydrogen Study Guide Supplement for Teachers $10.00
Contains questions for each chapter (editable text & PDF files) and fun crossword puzzles.
Download 4 sample pages
To order, please contact us.
---
MEET THE AUTHOR

Rex Ewing's diverse interests have led him from Colorado to Costa Rica to Alaska, working cattle and horses, mining gold, and formulating equine supplements. He now lives at the end of a bad dirt road in the Colorado Rockies with his wife LaVonne and two dogs. There he writes novels and non-fiction books from his hand-hewn log cabin powered by the sun and wind.
---
BOOK SPECS
ISBN 978-0-9773724-1-6
288 pages • 6 x 9 paperback
illustrated • 2007