Save $5 on your first order with coupon code:  SAVE5NOW
Homebrew Wind Power
HOM1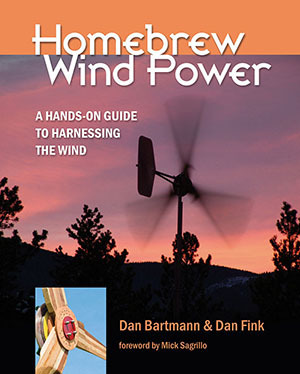 Homebrew Wind Power: A Hands-On Guide to Harnessing the Wind
by Dan Bartmann & Dan Fink
Published by Buckville Publications

A step-by-step, illustrated guide for building a wind generator in a home or school workshop and then installing it in an off-grid electrical system. This book also covers the basic physics of how wind energy is converted into electricity, plus it provides a realistic idea of what wind energy can and cannot do for the end user.
---
REVIEWS
"A well-crafted blend of theory and practical information for all who want to build a quiet, efficient, and economical wind turbine to achieve greater energy independence and reduce their carbon footprint. These guys know their stuff and know how to convey it in a clear, concise, understandable, and humorous fashion."

- Dan Chiras, PhD, author of green energy books
"The Otherpower Dans and their crew learn more in their sleep about building good wind generators than the rest of us learn in the daylight. If you want to be able to build simple, robust, and productive wind turbines awake or asleep, buy this book!"
- Ian Woofenden, Senior Editor, Home Power Magazine
"Finally, a detailed--some would argue exhaustive--treatment of how to build your own backyard wind turbine...This is a fun book. It's well written and informative too. If you plan to build your own, this is the one to have."
- Paul Gipe, author of wind energy books; 1988 Person of the Year by the American Wind Energy Association; Pioneer Status from the World Renewable Energy Congress.
---
AT-A-GLANCE
Foreword by Mick Sagrillo
Introduction to Wind Power, Renewable Energy 101, Power in the Wind
Electricity from a Spinning Shaft
Furling & Regulation, Shop Safety
Mold Building, Coil Winder, Frame, Tail
Magnet Rotors, Stator, Rectifiers, Alternator Assembly
Blades, Rotor Assembly
Tower Types & Sizes, Raising Towers
Failures & Prevention
Scaling It Up & Down
plus an extensive appendix
---
BOOK SPECS
ISBN 978-0-9819201-0-8
320 pages • 8 x 10 paperback
illustrated • 2009