Save $5 on your first order with coupon code:  SAVE5NOW
Got Sun? Go Solar, 2nd Ed.
GOT2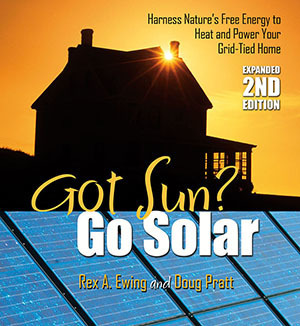 Got Sun? Go Solar: Harness Nature's Free Energy to Heat & Power Your Grid-Tied Home
Updated 2nd Edition
by Rex A. Ewing & Doug Pratt
This straight-talking book cuts through the green energy hype and explains how grid-connected homeowners can be smart about their energy future. Solar and wind-generated electricity, solar water heating, passive solar techniques and geothermal heating/cooling will enable homeowners to become self-sufficient while protecting themselves from rising utility rates and grid blackouts. With financial incentives now available, the time is perfect to utilize nature's free energy.
---
REVIEWS
This is an excellent primer on home application of solar energy. Written in a chatty and amusing style, the book is more informational than mechanical. Because of the technological advances in the field, books covering the subject need to be updated frequently to remain useful. This update of the 2005 edition delivers fresh new information on energy regulations as well as a new section on solar and geothermal heating.

— Library Journal
"Ewing and Pratt both have long standing experience building and living with solar power systems, on and off the grid, with or without wind power. Here they augment their 2005 guide to designing and maybe installing a home system by adding chapters on using sunlight to heat the house and heat water, and on geothermal heating and cooling. The information they provide is available in many books now, but they present it with an informal and entertaining style that might appeal to many readers."
—SciTech Book News
"Got Sun gets it right. Clear and concise, all the information needed by anyone who wants solar or wind energy, which should be everyone!"
— Jeff Wolfe, CEO - Global Resource Options, Vermont (NABCEP Certified PV Installer)
---
AT-A-GLANCE
For Grid-Tied Homes:
Why invest in renewable energy for your home?
Is it legal and safe?
How solar electricity works
Grid-tied solar and wind systems, with and without batterie
Sizing your solar/wind system
What does it cost?
Any financial help out there?
Permits & Paperwork
The Nuts & Bolts: what to look for, what to avoid
Who does the solar/wind installation?
Using the sun's warmth to heat your home
Solar hot water (thermal) systems
Geothermal heating and cooling
Appendix: manufacturers, web resources, state energy offices, sizing worksheets, glossary, and more
---
MEET THE AUTHORS

Rex A. Ewing has lived off-grid with solar and wind energy since 1999. His energy books also include Power With Nature, HYDROGEN—Hot Stuff Cool Science, and Crafting Log Homes Solar Style. His articles on renewable energy and equine nutrition have appeared in numerous publications since the early 1990s.
Since the mid-1980s, Doug Pratt has been in the forefront on the renewable energy industry as consultant, technician, teacher and writer. He has worked with a wide range of industry manufacturers, beta-testing new equipment and bringing it to market. For 15 years Doug was the technical editor for the industry-leading Real Goods Solar Living, while designing and consulting on thousands of residential and commercial renewable energy systems. Pratt has lived in passive solar homes, on and off-grid since 1980.
---
BOOK SPECS
ISBN 978-0-9773724-6-1
192 pages • 7½ x 8 paperback
illustrated • 2009