Save $5 on your first order with coupon code:  SAVE5NOW
Geo Power
GP1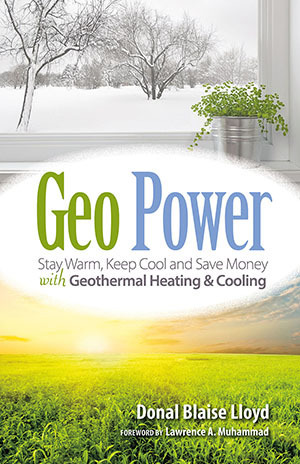 Geo Power: Stay Warm, Keep Cool and Save Money with Geothermal Heating & Cooling
by Donal B. Lloyd
This updated & expanded edition combines the popular book, The Smart Guide to Geothermal with a more comprehensive science & technology section. Ideal for geothermal students / trainees and installers, and savvy homeowners.

---
REVIEWS
"We each must do our share in ensuring that future generations have safe and clean energy sources while not compromising our comfort or budget. Geo Power shows how that is possible with ground-source heat pumps. With this book, my students and trainees are able to understand not only why geothermal can be used, but the scientific reasons and evidence for its effectiveness. And for homeowners looking for a safe and sustainable alternative to fossil fuels, or businesses needing to reduce operating costs, this is the right book at the right time."
- Lawrence A. Muhammad, IGSHPA Certified National Trainer, IGSHPA Accredited Installer, and Professor at Michigan Community Colleges
"Geo Power is especially designed to help spread the word about ground-source or geothermal heat pump systems (GHPS) to the world, and it does an excellent job of explaining how a GHPS works for health, safety, heating, cooling and hot water. I recommend reading Geo Power to understand the most energy saving comfort system for your home or commercial property."
- Gerald R. McClain, Distance Learning Coordinator, International Ground Source Heat Pump Association
Lloyd makes a complex subject accessible and helpful to a broad audience, from interested homeowners to system installers. A solid addition to all "renewables" collections.
— Robert Eagan, Library Journal, 2015
---
AT-A-GLANCE
This updated & expanded edition includes a more comprehensive science & technology section for geothermal students / trainees and installers, and savvy homeowners.
Geothermal system options: open loop vs. closed earth loops; either horizontal or vertical, for water-to-water or water-to-air HVAC systems.
The importance of finding a qualified contractor.
Important money concerns: costs, tax credits, payback time, increased home values.
Who is using geothermal energy, including the author's firsthand experiences and Earth Smart Home profiles from around the country.
How solar electricity can be used to power the system, plus other future trends.
Understanding the basic principles of heat pumps and how super-efficiencies are achieved.
Performance standards, ratings and warranties.
Careers: joining the geothermal industry.
Comprehensive appendix with numerous resources.
---
MEET THE AUTHOR
Don Lloyd is an electrical engineer now retired from Honeywell after 35 years in marketing, engineering and project management. He has extensive experience in taking complex subjects (such as laser gyroscopes or mosaic infrared detectors) and explaining how they work in terms understood by the general public. He is at his best when giving lectures describing how geothermal heat pumps work and why they are the ideal heating and cooling solution for homeowners. Prior to entering the geothermal world, he operated his own software consulting business as a Microsoft Certified Software Professional. He also served as an officer in the US Army. Don lives in the Hudson River Valley region of New York State with his wife, artist Martha Lloyd, in their new home where the oil trucks pass by but never stop. "Installing a geothermal heat pump was one of the best decisions I ever made!"
TECHNICAL ADVISOR
Lawrence A. Muhammad
is an International Ground Source Heat Pump Association (IGSHPA) Certified National Trainer, having conducted numerous trainings throughout the US. As a community college professor, he teaches a wide variety of geothermal courses at three colleges in Michigan. Putting his teaching and training skills to work, Lawrence is also a licensed residential builder, an IGSHPA Accredited Installer, a NATE Proctor, and the designer / developer of the apprenticeship program for the Geothermal Innovations Gii4 proprietary heat exchanger. His geothermal training company, Geo NetZero, is committed to providing a skilled and qualified workforce throughout America.
---
BOOK SPECS
ISBN 978-1-936555-58-1
208 pages • 5½ x 8½ paperback
illustrated • 2015