Save $5 on your first order with coupon code:  SAVE5NOW
Crafting Log Homes Solar Style
CLH1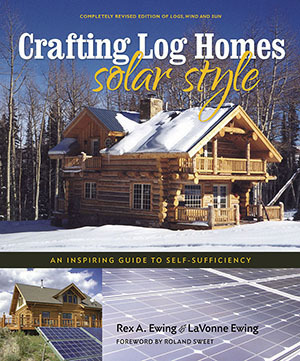 Crafting Log Homes Solar Style: An Inspiring Guide to Self-Sufficiency
by Rex & LaVonne Ewing
A down-to-earth guide to building solar-powered log homes, complete with how-to illustrations and photos plus enlightening stories from log home owners across the country. Follow the authors' journey of handcrafting an off-the-grid log home in the Colorado Rockies and discover how renewable energy is a perfect match for modern log home living, from small weekend cabins to expansive year-round homes.
The Completely Revised Edition of Logs, Wind and Sun
---
REVIEWS

"By their very nature, the majority of log home owners are concerned with living a sustainable, responsible lifestyle and leaving the lightest possible footprint on our surroundings and resources. The Ewings seem to have discovered that sweet spot in crafting log homes where self-reliance, comfort and economy coincide, living in harmony with nature without sacrificing any of the modern amenities we all require. Read Crafting Log Homes Solar Style with caution. You may find yourself unable to live without a log home. And you will certainly never regard your energy use the same again. "
— Brian Gabriel, www.log-cabin-connection.com
"A great resource! There aren't a lot of books that focus on the nuts and bolts of log home construction. Fewer still that focus on the energy efficiency possibilities. Rex and LaVonne's book tackles them both and does it well. It's broad enough to give you an accurate perspective on the entire process and detailed enough to serve as a manual during construction. Besides being filled with up-to-date real world advice, it's well-written and filled with personal experiences. This book should be at the top of your list for any log construction project."
— Jim Cooper, author of Log Homes Made Easy
"This eagerly anticipated edition explains the realities of handcrafting a log home and living off grid. It is loaded with tips so you can avoid common construction pitfalls, and you'll be encouraged by spotlights of a dozen very different log homes using solar and wind power. I highly recommend it!"
— Tracy Johnston, Log Home Store, Inc.
---
AT-A-GLANCE

Log Home Living, Solar Style
Site Selection
Plans and Permits
Dead Trees and Great Expectations
Tools for Construction
Excavation and Foundation Work
The Floor
Peeling, Lifting and Building with Logs
Gables and Dormers
Roof Framing
Windows, Doors and Wiring
More Settling Issues
Chinking and Finishing
Harvesting Solar and Wind Power
Heating of House and Water
Pumping Water
Finish Work: Making Your House a Home
LaVonne's LogBooks and Log•ically Solar: Homeowner Profiles from Around the Country
Appendix (Costs to Consider, Notes for Off-Grid Homes, Resources, General Bibliography, Recommended Reading)
---
MEET THE AUTHOR

Rex Ewing's diverse interests have led him from Colorado to Costa Rica to Alaska, working cattle and horses, mining gold, and formulating equine supplements. He now lives at the end of a bad dirt road in the Colorado Rockies with his wife LaVonne and two dogs. There he writes novels and non-fiction books from his hand-hewn log cabin powered by the sun and wind.
An award-winning graphic designer, LaVonne is the owner of Image Resource, a graphic design firm that specializes in book design, art catalogs, and corporate identities. She is also a managing partner with ArtCantina.com, an educational site for the visual arts.

---
BOOK SPECS

ISBN 978-0-9773724-4-7
256 pages • 7½ x 9 paperback
illustrated • 2008