Save $5 on your first order with coupon code:  SAVE5NOW
Combo: Living With Bears Handbook & 3 Pocket Guides
LWB2-bk-3G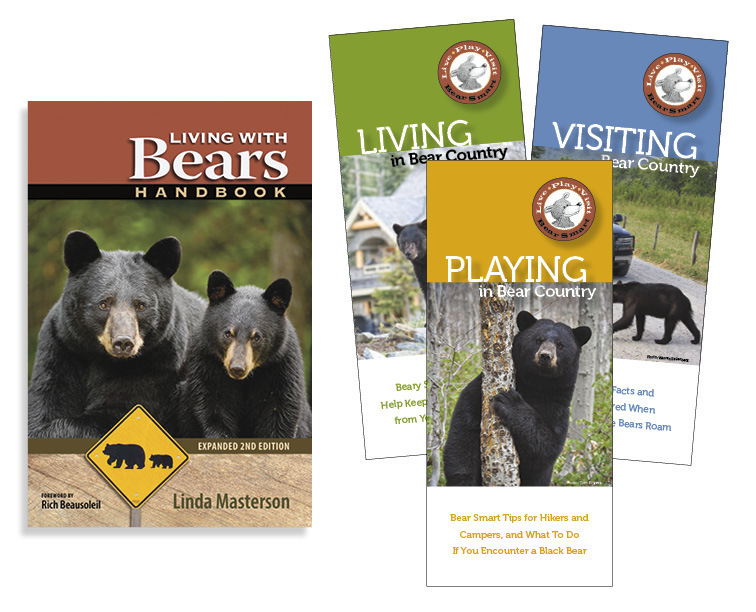 Combo Set: the best-selling Living With Bears Handbook and 3 Bear Smart Pocket Guides

Living With Bears Handbook, Updated 2nd Edition
by Linda Masterson
Today bears have a growing people-problem: their "backyards" are full of humans and people-provided food is everywhere. Discover practical solutions and real-world examples of how to prevent conflicts at home and at play so we can do a better job of sharing space with these intelligent, adaptable animals.

A set of 3 Bear Smart pocket guides
Each 4x9 tri-fold is filled with handy tips and advice; retail $7.95
Living in Bear Country: Beary Smart Solutions to help keep bears wild and away from your home and stuff.
Playing in Bear Country: Bear smart tips for hikers and campers, and tells you what to do if you encounter a black bear.
Visiting Bear Country: Get the bear facts and be bear prepared when vacationing where bears roam.
---
BOOK SPECS
ISBN 978-1-936555-61-1
$24.00 • 288 pages • 6 x 9 softcover • 2016
over 160 photos / illustrations