Save $5 on your first order with coupon code:  SAVE5NOW
Bear-ology
BRY1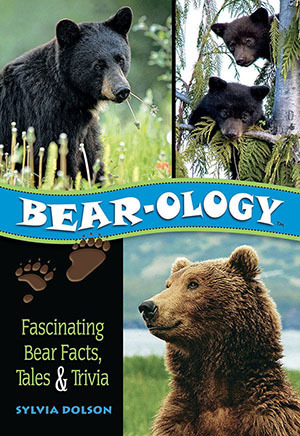 Bear-ology: Fascinating Bear Facts, Tales & Trivia

by Sylvia Dolson
Bears have captured our imaginations for centuries. Now in this treasure trove of facts, folklore and amazing trivia, discover the history and nature of all bears, including black bears, grizzlies and polar bears. Along the way, meet some famous bears (real and not-so-real), learn about bear totems and mythologies of Native peoples and ancient cultures throughout the world, and see how bears have become embedded in our lives, from the names of night-sky constellations and sports teams to everyday words and slogan. Complete with color photos and numerous illustrations, plus helpful tips for coexisting with our furry neighbors.
---
REVIEWS
"An excellent selection for libraries in bear country and a useful addition elsewhere."

- BOOKLIST
"Paws Up! This wonderful little book is so well written and illustrated that you'll barely notice how much you're learning about bears . You'll find yourself saying 'I didn't know that' at least once a page. I definitely recommend this fun-to-read, enlightening book!"
- Linda Masterson, author of Living With Bears
"Read Bear-ology and you will succumb to its cumulative effects. The many interesting vignettes and images of bears lead to enjoyment, understanding, and respect. Through hundreds of smiles and reflections, Bear-ology will open a door and invite you into the fascinating world of bears and people who care about them."
- Dr. Stephen Herrero, author of Bear Attacks: Their Causes and Avoidance, Past President of IBA
"Bear-ology is a charming little book for the young or not-so-young bear lover who wants to learn more about the various species of this type of creature. Bear-ology gives readers countless fun facts and fine reading about the ursine animal."
- Wisconsin Bookwatch
---
AT-A-GLANCE
Dispelling Myths
Bears in the Night Sky
Get the Bear Facts
Ancestral Bears
Relationships with Humans
Tips for Coexisting with Bears
Bear Aware Groups Making a Difference
Primal Fear of Bears
The Spirit Bear
Do You Speak Ursine?
Bear Detectives
The Bear as a Healer
Aboriginal Connections & Native Mythologies
Bears in Our Language
Heraldry and Other Symbolic Use of the Bear
Bruin Funnies
Where to See Bears
Take the Bear-Smart Challenge, Beary Fun Puzzles
Color Photo Gallery
Real & Not-So-Real Famous Bears: Bart the Bear, Teddy's Bear, Yogi Bear, Voytek, the Soldier-Bear, Smokey the Bear, Goldilocks and the Three Bears, Winnie the Pooh
---
MEET THE AUTHOR

Sylvia Dolson's passion for bears is equaled only by her quest to teach people about the true nature of these wonderful bruins. Her ultimate goal is for a greater coexistence — one in which people and bears live in harmony. Sylvia has been involved with the Get Bear Smart Society since 1996 and is now the executive director. She is also a member of the International Association for Bear Research and Management. As a leading expert on living with bears in residential communities, she has been instrumental in bringing forward more progressive, bear-friendly management policies in British Columbia, Canada.
---
BOOK SPECS
ISBN 978-0-9773724-5-4
192 pages • 5½ x 8 paperback
with color photo album • 2009